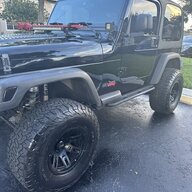 TJ Enthusiast
Vendor
Lifetime Supporting Member
Joined

May 2, 2019
Messages

518
Location
It has been over two years since we started Wranglerfix. PCM by PCM, testimony by testimony, you all have helped build my company and reputation. I Want to thank you from the bottom of my heart. THANK YOU! I could not have done this without you.
In order to show my appreciation, I will be giving away a 2005/2006 oem new manual pcm (as well as several of my automatics!) See photo below
Your odds of winning are 50-50. Either you'll win or you won't!
No, seriously...I will be having the drawing on Facebook live on August 29th.
Please tag all of your 2005/2006 friends and share this post with your Jeep groups and forums. I'd greatly appreciate it!
Also, Please to stop by my good friend Mr. Blaine at
www.blackmagicbrakes.com
for the best brakes in the business bar none!
These are the brakes I would
put in my children's cars. My wife, not so much.
Mention Wranglerfix to Mr. Blaine and he'll charge you double or maybe he will hang up on you! Not to be confused with the street magician David Blaine BLACK-MAGIC BRAKES will make your braking issues disappear!
Wishing you all the best,
Mark Cantrell
Last edited: