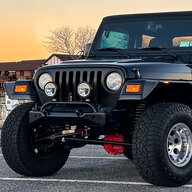 TJ Addict
Supporting Member
Joined

Nov 3, 2018
Messages

1,186
Location
Hoping to cannibalize one of the stocks circuits as a source of switched power for seat heaters.

I am soft top only so don't and won't use the rear wiper or defroster. Looks like both circuits are switched power. The defroster is timed.. is the timer incorporated in the switch or elsewhere in rig? Not sure about the viability of either circuit.

Can anyone help with details on these circuits and pin assignment?

If the defroster timer is someplace other than the switch, it could be a good source of power for the seat warmers as I don't expect I would want them on indefinitely and a timed out power circuit could be useful.