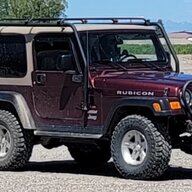 TJ Guru
Supporting Member
Joined

Apr 15, 2019
Messages

9,371
Location
F****** postal service. I have to send a package to the wife who is in Maine. This is not an easy task for me because of my hand tremors.

I find a box to fit her meds (she is staying longer than planned) so she won't run out. I finally get the box taped, slap a priority label on then try to find someone to write the address on the label since I can't hold a pen.

I take the package to the post office on Monday the woman says the package will arrive on Wednesday. Well the wife is out of meds and the tracking says the package is still in Florida.

She had to get her heart doctor to give Walgreens in Maine two scripts for 5 days of pills. I don't know if she will get her meds in 5 days, or before she flies home.

Priority my Ass.
I may be a postal contractor but I can totally sympathise.. The powers that be are cost cutting in all the areas that should be having more money allocated to them.