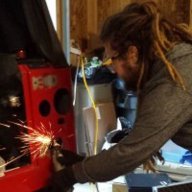 TJ Addict
Supporting Member
Right now I have the stock radio and speaker setup. I may later go to a double din to gain a backup camera and Bluetooth. I do not have any extra room at all for an amp, speaker boxes etc.

Are there any plug and play speakers for either the dash or rollbar that will be a good improvement over stock?

Bonus points if you can recommend a double din unit that will lower music volume while somebody is talking on the cb radio (mic out to radio).

I'd love the be jamming more than I already am!