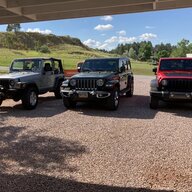 Joined

May 29, 2018
Messages

16
Location
This 97 a 4.0 - automatic. Has a 3" lift. I've had it for 7 years as my daily beater, work horse and as another off road toy at our summer digs in the Black Hills. I want to up my game just a notch, as it sits it qualifies a 5 on most sanctioned events, I want to see some new trails...
So I have 3:73 open diffs, Dana 30/35. 31.5" Tires (but due for replacement).
I think I would really like having the Eaton Tru Trac limited slip, front and back rather than lockers... What is the consensus on this with you guys?
What do you guys like for tires, I'm staying with the same 31.5" I'm 90% sure unless someone can tell me why not.
Seats, looking to replace. I'm 5'10 and 220lbs, I would like to be comfortable and not worry about a seat coming apart. Suggestions?