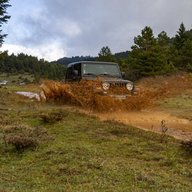 TJ Enthusiast
Supporting Member
Joined

Dec 23, 2019
Messages

809
Location
So, I did a 2.5" SL. As suggested in this forum I chose Rancho RS5000X shocks. I think almost anyone in this forum suggest RS55128 vs RS55239 front shocks for this kind of lifts.

Today I took some measurements.

Front Shocks have around 5.7" up travel. Ranchos RS55128 have compressed length of 13.05". That means that my shock length at ride height is 18.75".

RS55128 - Extended length: 21.03"
That means that I have 21.03" - 18.75" = 2.28" DOWN TRAVEL
UP TRAVEL is at 5.7" as mentioned above.

On the other hand!
RS55239 (Compressed length: 14.43", Extended length: 23.84")
Which means,
Up travel = 4.32"
Down Travel = 5.09"


It seems that RS55239 would be a better choice for a 2.5" SL. Am I right or wrong? Do you find any flaws in my thinking? Please correct me if I am wrong.

Do you have any other suggestions for me? I just installed RS55128, and I don't know what to do!