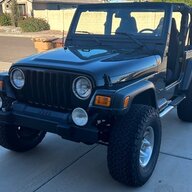 Member
Lifetime Supporting Member
Joined

Dec 8, 2022
Messages

62
Location
I asked a local shop to replace the rear main seal (RMS) and the oil pan gasket since both were leaking. The RMS is still leaking after the shop replaced it, but that's another story. There's something that has troubled me about the work they did on the oil pan gasket. Apparently, the shop ran out of RTV Ultra Red and decided to use anaerobic gasket maker, which only cures in the absence of oxygen. The color is candy apple and can be seen in the pictures as opposed to the oranger color of Ultra Red that it's mixed in with. I've taken my finger and scraped off some of it. It's just sitting there in its goo-ish form collecting road debris. It looks like about a 30% of the gasket is coated with this stuff.
My understanding is that when anaerobic gasket maker does cure it dries hard unlike the RTV that dries in a rubber-ish form. I point this out because it's possible that perhaps some of the anaerobic gasket maker cured under the surface areas between the gasket and the pan lip and engine block.
Was it appropriate for the shop to use the anaerobic gasket maker to seal the oil pan? If not, why not?