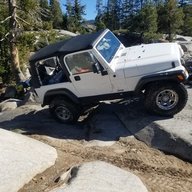 vibrajeep
Supporting Member
Ride of the Month Winner
Well, technically, this isn't a TJ build. It's more a YJish build, but not, lol! This will be a trailer tub build utilizing two YJ tubs. My buddy Lowranger spearheaded this project by showing up at my work with two junk yard YJ tubs.
We took the tubs out to his place to begin by getting them cleaned up.
Contemplation/beer break...
Yep, more cleaning...