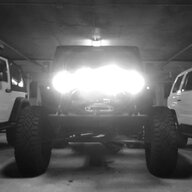 dimanche au soir à châteauguay
Supporting Member
Joined

Aug 18, 2020
Messages

635
Location
I know this has been answered somewhere but I can't find an all in one thread using the search bar and I'm hangry so I'm not in the mood to look through 800 threads to find specs. Waiting on someone to respond to an email so I have a few minutes to ask.

Is there a source for proper alignment specs? Toe-In, Camber, Caster etc.

33" Tire. 3" Suspension Lift.

Thanks in advance for making this easier for me. Can't eat till I finish this project at work and I'm on the struggle bus trying to line up some f*cking carports with PV plans that don't match my A set..