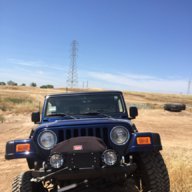 TJ Enthusiast
Supporting Member
Joined

Mar 21, 2017
Messages

265
Location
Was curious of thoughts on different types of synthetic lines. I really don't know why some like Warn are so much more expensive. Warn was in the $300 range .
https://www.amazon.com/dp/B01N8Q9XDP/?tag=wranglerorg-20
I was looking at these two Ranger brand on Amazon which were much cheaper
This which seems pretty standard $120 (i have read i should remove the sleeve). is this much worse than the Warn brand?
https://www.amazon.com/gp/product/B074J1S8NQ/?tag=wranglerorg-20
This with a "jacket" that covers the whole length. $140. Because of this it appears you can't undo the installed thimble to install a one of the safety thimbles that the rope goes through https://
www.amazon.com/gp/product/B07212SY8H
I have an older model Warn 9.5ti which came with 125 of steel cable. I am guessing the 100 foot synthetic should be fine. Maybe I am over thinking and any would be better/safer than the steel
Last edited: