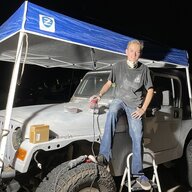 Joined

Mar 9, 2021
Messages

25
Location
Backstory:
I have 2001 Jeep Wrangler Sport and the other day I was on the highway when the engine started to lose power. It wasn't too fast of first but after less then a minute it was not enough to maintain highway speed and was continuing to decrease. So I pulled off onto the side of the road and it died without me doing anything. Long story short, it wouldn't start and it was later found that there were metal flakes in the oil. Because of this I'm pretty sure it'll need a new engine. It has 157k miles but I'm not sure previous owners took very good care of it.

Questions:

Is it better to get a rebuilt/salvaged engine or purchase a new one?

Where are the best places to get a new/used one?

I know it's broad but approximately how much would it cost to buy the engine plus other parts that are required (not including labor)?

Thank you in advance for anyone to responds to this.