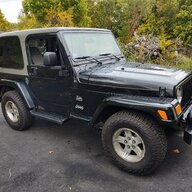 Joined

Jul 15, 2020
Messages

550
Location
The Apex TJ I just picked up needs to be sorted out. It currently has a 2.5" body lift with 32x11.5x15 tires on 10" wide rims. I haven't measured, but I'm quite sure there is no spring/suspension lift in it whatsoever. It's the 32RH automatic (3 speed), 4.0L six, with dana30/35 axles with the 3.07 ratio. I'm trying to come up with a fairly budget friendly plan to get it to where I'm currently happy with it, with an eye for what I might do in the future. I don't do any hardcore wheeling or rock crawling at all, it will be used a lot on the road and for some very light off road such as fire roads, camp roads, maybe an easy pipeline and such. The wife kinda fell in love with it when I brought it home, so I'm trying to build it with her in mind as well. Don't get the wrong idea here, she'd rather it stay jacked up or go higher, where I'd rather bring it down a bit, drive it and figure out whats working and what's not.
So:
Questions:
1) It seems a 2.5" body lift is generally frowned upon in this forum, correct? It does look fairly silly, and I understand the extra shear force on the bolts should the Jeep be in a collision. Any other real issues with running this, or should I drop it to a max of 1.00"-1.25"?
2) The fan shroud has obviously already been relocated with the large body lift. Should I decide to drop the body back down with a 1.00" lift or so, should I simply relocate the fan shroud again, or would it be better to get a motor mount lift? It doesn't seem like a good idea to do a MML which will (slightly) alter driveline geometry when I'm not trying to correct a problem. I ask, because I am considering a 2" spring lift in the future. Should I just wait for the MML if/when I do the spring lift?
3) If I drop the body back down, what kind of things would have been needed to be modified for such a tall body lift? Thoughts are: steering, auto shift linkage, tcase shift linkage, gas tank hoses....anything else?
My thoughts currently:
1) Drop the body down to the 1.00-1.25" lift usually recommended
2) Buy a set of 31" tires on factory Canyon wheels I found at a good deal and replace the 32" tires and wheels (the 32" tires are in poor shape)
3) Drive it for a while and see what we like and don't. I'm thinking I'm not going to love the 3.07 axles, but I haven't owned one with em', so I guess we will see.
Future possibilities:
I may consider adding a 2" spring lift (OME) in the future. This coupled with the 1" body lift should let me get into 33s since its not going to be wheeled hard. The elephant in the room is the 3.07 axles. I have a dana 44 (3.73) and would pick up another dana 30 (3.73) to put under it in this case. I would consider a re-gear, but would want to be able to maintain 65-70 and 3.73 with 33" tires according to grimjeeper calculator provides about 66mph at 2500. I doubt this is ideal, but for a rig that sees more road use than dirt use, and one without an overdrive, this might be a good compromise ratio.
Kind of spitballing here, but if anyone would like to chime in I'd love to hear it.