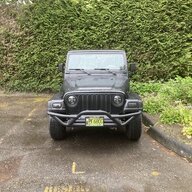 Joined

Jun 3, 2022
Messages

36
Location
Hello,

I have a stock '98 2.5L. I'm currently running 28 or 29 inch tires, I can't remember.

I'd like to go up to the biggest tire size that doesn't rub, which I've heard are 31s.

So, my questions:

1. Can the stock rims handle a 31 inch tire?

2. Is this going to additionally stress the drivetrain or steering at all?

3. Any brand recommendations? I'd like something that lasts, but obviously rubber wears down no matter what the quality is.

Hoping to do this soon as my tires are wearing down & I should probably rotate my wheels anyways. Thanks!