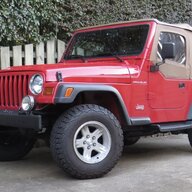 Unexperienced Overthinker
Supporting Member
Joined

Aug 24, 2019
Messages

1,377
Location
I thought it might be nice, for us owners of the 97 model, to keep track of some quirks.
Post your known quirks so we can know in advance, instead of learning the hard way.
I'll make a list and update it so folks don't have to scroll through each post. I'm just pulling from the posts in this thread and others, so I can't take credit (or blame!) for what's below. Correct me if you see something wrong.
———
General:
See this thread for an overview of TJ changes by year.
This forum's copy of the 97 FSM was updated in mid-2021. See here if you downloaded it previously.
Not a quirk, but FYI that 97s become "antique" cars in some states starting in 2022. See here and here.
Jeep never made a 96 model TJ. The 97 was supposed to be released as a 96 but there were manufacturing delays.
Early 97s manufactured in 95 had a mix of YJ and TJ parts. Models manufactured in 96 were all TJ parts, or so I've read.
Electrical:
Some 97s have radio antenna thread of 1/4–28, whereas other TJs have 5/16–18.
Some UK 97s have a different "immobilizer" than 98-and-up models do. The fix is here.
The 97 TCC pass-through connector and solenoid connectors are different. See here and next few replies.
The 97 VSS would break down internally and leak ATF up into the electrical connector— hence the redesign.
The 97-99 models have the AC mounted on passenger side. This means the Durango alternator swap won't work.
As here, the 97s (and maybe other years?) have a grounding strap from the upper end of the gas filler tube to the frame.
Early 97 models manufactured in 96 use some electrical parts (like sensors) from the YJ. TPS and VSS, among others.
Blower motor under dash has pigtail connecting to harness at firewall, instead of harness plug. Pics and PNs here.
The 97 had different light bulbs in the foot wells, dome light, reverse lights.

Step/Courtesy Light Bulb Size: 89
Sound Bar / Dome: 906
HVAC and Instrument: 74
Tail lights use a 4-pin GM weatherpack, just like YJ. 98s and later use a proprietary plug.
Frame & Body:
97 models have three cowl vents, whereas later models have just one.
1997 and 1998 were the only years that used Mist Gray for an interior color.
'97 half doors had plastic track attached with push pins and two-sided tape. The rubber seal slides into track. Pics here.
There were two different latches used on the '97 TJ based manufacture date.
Engine & Drivetrain:
97 was the only year a TJ had 3.55 gears with a Dana 44 option.
97 4.0s had a TSB for weak valve springs that could cause a misfire. See here.
97 fan clutch is held to the water pump by 4 separate 5/16" nuts and all thread studs.
97 4.0s have 15mm nuts on the manifolds, not 14mm nuts. See here and scroll down.
97s have the evap canister under the hood. It was also a different canister than used in other year models.
97 2.5Ls had the fuel rail damper located opposite side of rail from regular 2.5Ls, and also used a vacuum line.
97s (some) have different plug for speedo gear. Pins vs blades in the connector (important for super short SYE).
Big quirk in the wiring of the 01-03 1996 build dates. @Wildman has more to offer here.
Interior:
The non-cruise, one-piece steering wheel was only used for 1997 and early 1998 models.
1997 and 1998 models were the only years that used "sliders" to control the HVAC system.
The ignition key cylinder has older-style turn grips that was only used on 1997 and early 1998 models.
The 1997 and early 1998 windshield visors don't have those stupid, colorful airbag warning and child seat labels yet.
Early 97s did not use the fabric strap to hold the glove box in place. They used a plastic "catch" that is built into the box itself.
Last edited: