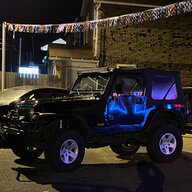 Joined

Nov 2, 2020
Messages

169
Location
So, I don't know if this counts as a quirk of the '97, an issue across all TJ's, or just specifically mine. I have a pretty bad paint job on mine, meaning lots of bare primer in areas. I know mine has never been repainted as my wife purchased it new. Maybe my expectations are high, or maybe mine was just the last one off the line on a Friday. Anyone else notice this?

View attachment 259444View attachment 259445View attachment 259448View attachment 259447

I know the underbody things may be passable. But if you look at the third picture near the headlight, this is a representation of the whole body. Anywhere two body panels come together, there is a bit of a gap. It just bothers me.
Yea I have have some bad spots near the tailgate and on the inside of the hood