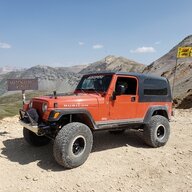 Radio Guru
Supporting Member
Joined

Jan 29, 2017
Messages

184
Location
As posted in other threads, I will be programming the Baofeng or Rugged radios you guys bought for this trip starting Friday (23rd) afternoon. Here is how that will work...
I rented a house in town and you can come by any evening to have your radios programmed.
Call first so we can make sure we are home!
I will try to accommodate your schedules and will keep my computer with me whenever we are in town. This includes any meet-ups, dinners, the party at Grandpa's Garage
(TBD)
, etc.
However, I will NOT be programming radios at the trail head before a run!
You'll be punching in your own frequencies at the trail head!
Casa De LJ
3463 Tierra del Sol Dr
Moab, UT 84532
Save the address as Jackie and I will be hosting a party at our place at least one night during the week; also to be determined so as to not interfere with any official TJ Fest gatherings. Its BYOB but we'll have snacks, pizza, and other food.)
If you need a radio, go to Amazon and buy this...
Baofeng UV-5R
or equivalent. I'll be able to program the following radios... (UV-5, UV-5R, UV-5RPlus, UV-5R+, UV-5RA, UV-5RC, UV-5RE, UV-5RV2+. UV-5RTP, UV-5RI6+, UV-5RCx (2M/220MHz), UV-5X, UV-5Rx3, UV-5R III and the UV-5R3)
Or you can go to RuggedRadios.com and buy half the radio at double the price...but they work good. V2 or V3 is fine!
If your radio isn't listed above or I don't already have the software, and IF I have the cable that fits, I can download the software for your radio and it will cost you $25.00. You will keep the software since you paid for it and a cable will be mailed to you so you can reprogram your radio when you get home after the trip. But at least we will be able to hook you up for this trip.
There will be 120+ frequencies programmed into your radio. Your name will also be programmed in which appears every time you turn it on. You'll get...
All "TJ FEST" team frequencies
All 22 FRS Channels
All 30 GMRS Channels including repeaters
All 5 MURS VHF Channels
All 7 National Weather Channels
All KOH frequencies
All 45ish Rugged Radios pre-programmed race frequencies including Baja
3 - Moab ham radio repeaters (but transmit has been disabled unless you have a ham radio license)
Any questions?
Last edited: