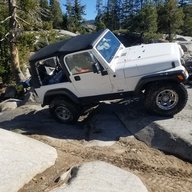 vibrajeep
Supporting Member
Ride of the Month Winner
Joined

Feb 3, 2017
Messages

11,723
Location
I've been bouncing around questions about my vibration issues in other jeeper's vibration threads, so I figured I better just start my own thread on the matter.

As the title states, I had my axles re-geared from 3.73 to 4.56. Immediately after re-gear I developed a vibration above 50 mph. It feels like a drive line vibration in my mind. Faster I go the worse the vibe gets. Before the re-gear the jeep drove smooth as glass to 75 mph.

Let's hear your thoughts....