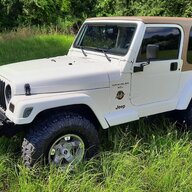 Joined

Dec 29, 2019
Messages

230
Location
I have a 2000, 4.0 with 32RH auto transmission and 3.07 gears. I installed new wheels and 33" tires so I would like to re-gear to 4.10 gears.

Does anyone know of a shop that does quality gear work in Middle TN? I'm pretty much dead center between Nashville and Chattanooga so anyone in between would be fine if they do quality work for a fair price.

This is a quote I got from a shop in Greenbrier which is a one man operation and gears is mostly all he does.

"Your looking at $1700 plus tax if you want to keep the open carriers.

New install kits
New gears
Oil
Shop supplies
New carriers for open diff Front/Rear
Axle bearings
Labor

1 year warranty on parts and labor

I run Timken or Koyo kits, I prefer the timken but covid has the timken kits running low at the moment. That would be Revolution brand gears."

With tax would put the price at $1865.75. That just seemed a little steep to me but I haven't had gears installed in a car since about 2008 so I don't know.

I'd appreciate any recommendations for a quality mechanic who can do the job for a little cheaper.