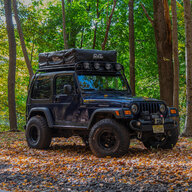 Joined

Jan 17, 2021
Messages

14
Location
Hey everyone! So, I recently went through the process of replacing my heater core in my 06 TJ. Although it is a pretty straight forward job, it is time consuming and can be intimidating to the newer Jeeper. The last thing anyone would want is to have to it twice. Unfortunately, that is exactly what happened to me. It has also inspired me to do some research and make this write up to ensure none of you have the same problem. I'll start by providing a little background on what happened, but if you want to skip to the fix just scroll down to the last paragraph.
My TJ had a leaky heater core, so I went to RockAuto and bought a replacement. I tore the dash apart and decided it was a good idea to replace most of the hard to get to parts in the heater box to avoid having to take it all apart again in the future. After getting her all back together I noticed the heat no longer blew hot. I then proceeded to top off the coolant and pull a vacuum to get rid of any air pockets in the system. Still Nothing. I then replaced the thermostat and thermostat gasket thinking it might be that, with no luck. I then checked all the doors on the heater box from the outside and they seemed to be functioning fine. I parked the Jeep on a steep incline hoping any air bubbles would rise to the top and come out the radiator cap, added a bit more coolant and still nothing. I then disconnected the two heater hose lines from the core in the firewall and coolant came pouring out, indicating there is no air pocket in the core. I was at a complete loss, so I went to the forums.
On the forums is where I was able to find one other person who had the same issue. He claimed that after buying a second new heater core and installing it the problem was fixed. The last thing I wanted to do was take apart the dash again, but it was starting to look like my only option. I decided to get another new core, this time from a highly recommended company called Performance Radiator. Huge shoutout to them as their customer service was great and the part was overnighted for free. After the installation of the second new core the heat blew hot once again. Now I could have stopped there, returned the faulty core, and got my 60 bucks back. However, that wasn't going to satisfy me. I needed to know exactly what caused this so I can ensure more people don't go through the same process that I did.
Attached are pictures of everything I will explain now. I decided to cut the stock core and the faulty new core open to see what I can find. As you can see the stock core uses metal "turbulators" to spiral the coolant and also create more surface area to heat up; therefore, making your heat blow hotter. The faulty core uses similar but SIGNIFIGANTLY flawed plastic turbulators. The OEM turbulators are made to be long, thin, and metal. This is to ensure they do not cause a blockage of coolant. The plastic ones are much larger and have much tighter spirals as you can see. The problem with this is they act as a cork and block the flow of coolant making it so coolant skips over the core and takes the path of least resistance, which is right out the exit pipe. This means there is no new hot coolant flowing through the core, which in turn gives you no, or very little heat. The important thing to note is that this is not only with my core, plastic turbulators are used in many aftermarket cores, most of which will not work once they are installed. As of now the only core I can confirm that does not use the plastic turbulators is from Performance Radiator. It is imperative to check that the core you are purchasing does not use plastic turbulators before you install. I hope this thread can help at least one person, and please feel free to ask any questions about the process as I am pretty familiar with it now!