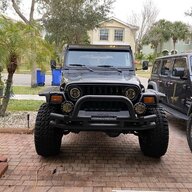 Joined

Aug 11, 2020
Messages

129
Location
This curiosity has had my attention for the last hour and had my scouring the web for something, anything.
When you fold up the rear seat on the earlier TJs, there is no spring-like mechanism like there is used in the later models that keeps the seat up, so Jeep used a strap that looped around a part of the seat and attached to the rollbar, pictured as part 11 in this '98 engineering diagram for the rear seat assembly:
I wanted to see how much it cost out of curiosity; I guess I found the idea of an OEM piece of nylon funny, but the thing is, you cannot find it anywhere.
I mean it has to exist right? I saw it in the informational videos that have been preserved on YouTube of it being used, and I saw like 3 pictures of the OEM one, but a place where someone or something sells it alludes me. I searched the part number (5519 6450 as listed in the parts list) and found that it used to be sold, but has since been discontinued.
This rarity makes me almost want to buy the first one I can find, even though a simple bungee cord or ratchet strap easily serves the same purpose.
Personally just a small tangent and a great example of something so seemingly worthless that it is almost...priceless.
Does anybody have one of these by chance?