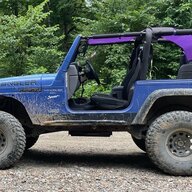 TJ Addict
Supporting Member
Joined

Oct 18, 2020
Messages

1,705
Location
Well my transmission spit the bit. One day 100% fine, the next morning it decided it was not going to shift out of first until it got to around 5k RPM, at which point it shifted into 3rd. There's whole 'nother thread on the topic. This about how we fix a transmission, because it seems to be something most people are scared of. I'm pretty scared too but since another guy here recently did it and also I'm a cheapskate who isn't going to pay $2k+ for a rebuilt unit when I can attempt to rebuild it myself for under $400...I'm a cheapskate but I also like to gamble. The plan is to document the process, but that will happen elsewhere. This is more about the progress and challenges that arise along the way.
Parts:​
Rebuild kit
from Oregon Performance Transmission. They make an HP version which includes some performance clutches & fancy steels, but costs $129 vs $231 for the HP kit. The "basic" steels were only $12 more so I felt like the non-HP kit was a better choice for me.
A904 Rebuild Kit A998 A999 Automatic Transmission Master Overhaul Banner Box Set Torqueflite 6
Rebuild Accessories
I added a number of accessories I ended up not needing (or not using, anyway). Things like the billet accumulator piston, low reverse servo, new steels, thrust washers, overrun sprag. I didn't know what I needed, which is probably why you'll find recommendations to tear it down first, then order what you need. OPT lets you return anything you don't open up, so I shot for the moon. I didn't even end up using the new steels, since the ones I had were flawless.
I also bought a new low/reverse band (the 2" double wrap version), which was the only additional part purchased that I actually used. So the rebuild kit ended up costing me $153.17, plus $35 for the ATSG manual. Honestly, I'm not sure the FSM isn't sufficient here especially knowing that at least one torque spec was wrong. On the other hand, different versions of the FSM have valves in the wrong direction or out of sequence. Pick your poison I guess.
Torque Converter
on the advice from several here, I got a new torque converter to go with my rebuild. I went with a Pro King CR-90 from Advance Auto, and was able to use a 15% off coupon to get the cost down to $182 (net of the $50 core charge). I was really hesitant to do this change, but ultimately you can't tell how contaminated yours is so you could re-introduce nasty fluid into your clean new transmission.
All told, I'm into this for $370 plus the cost of fluid, net of the items I'll be returning to OPT. I don't know how the OPT parts compare to what I would get from a shop rebuild, but I'm confident OPT's stuff is at least as good as OEM, and likely better than a shop where the job is to maximize margin by saving money on parts. But I could be wrong. I also used 6 cans of brake clean & 3 rolls of shop paper towels & a significant portion of a box of 5mil gloves from Harbor Freight.
Tools:
Slide hammer & some bolts of TBD size (to remove the pump)
2 flat head screwdrivers, not super big (to work out the lock rings that hold the clutches & servos)
Large C-clamp & two or three 1" wide washers
T-25 torx bit & driver (for the valve body disassembly)
11mm socket (to remove valve body)
1/4" socket extension (to remove the kickdown servo pivot screw)
Lock ring pliers (not to be confused with snap ring pliers)
Snap Ring pliers (harbor freight model will be fine)
Feeler gauge to check clearances. One of the angled ones might be easier to use here.
Air compressor to blow out passages & assist in cleaning
Effort
It's hard to gauge the time required because I intentionally went slow.
It took me 12 minutes to tear down the rotating assemblies (timed, after I had already done it once and knew what I was doing)
probably another 10 minutes to remove the servos.
There are other odds & ends but teardown should take less than an hour all told.
Replacing clutches seals etc requires more time, allow several hours or more if you're going to completely tear down every subassembly.
Valve body teardown, cleaning, and re-assembly, 2 hours
Case cleaning: as many hours as you want to spend, you'll never be done.
Transmission re-assembly, 2 hours.
Most of these tasks took me less time than I'm quoting here, and the things I had to do twice I was able to do very very quickly the 2nd time around. I could do the entire overhaul (excluding dropping the trans & reinstalling the trans) in probably 6 hours, with no tasks being actually hard in any way.
The above was primarily written in hindsight, the rest of this thread is a real time event stream. Have fun & learn as I learn.
I captured some video of the process and compiled it into a youtube playlist:
==============================================================================================
First things first, the no 2nd gear problem is because all the friction material came off the kick down band. In large chunks. I only drove it maybe 10 miles since the first symptoms, so that might be why the trash wasn't more spit up.
And then the band is about 90% bare except for one spot. I found enough large strips of that friction material that I could probably just about completely rebuild that band. Elmers glue will work, right?
The front drum that this band is supposed to grab got a little chewed up in the process as bare metal and rivets attempted to clamp down on the spinning drum. I don't know how bad bad is, but this feels like it could be problematic. I don't have a way to measure the depth of those grooves, but they weren't super deep. You couldn't catch a fingernail on them or anything, but probably needed to be addressed.
So I took it to a machine shop this morning and had them polish it. He said he used a bastard file? on it, and then used 120 and finished up with 400, I believe. He did a fantastic job on it. For payment he asked for $20, and of course I didn't have cash. He then said I could buy him lunch, and invited me to go with him. I had a work call so I couldn't take him up on that, but based on how much he just wanted to shoot the breeze about machine work & cars, I feel like this could be a fun friendship. Since I couldn't pay him in either of those ways he told me the work was on the house. I couldn't accept that, and eventually we landed on beer as the universal currency. Two packs of Budweiser 16 oz bottles (from QT, so $28) and I'm now paid in full. He invited me over this afternoon to help him drink it.
I've ordered a rebuild kit from Oregon Performance Transmission which should get here this week. In the meanwhile I've got this thing torn down to the sub-assemblies. I do have the clutches out of both drums and I have the valve body halves separated and cleaned. The case got sprayed down with brake clean but I need to hit it again and then shoot air into all the openings & let the Texas sun dry it out. I probably ought to just have the whole thing dipped in some sort of industrial cleaner. I would really like to clean it & paint it, but it's just gonna get dirty again and I don't know if I have the heart do that much useless work.
My group is headed to Barnwell Mountain ORV on Saturday, so the *goal* is to have this reassembled & re-installed Thursday evening, so I can spend Friday test driving it around town before taking it on a 2 hr trip & then putting it through the paces on the rocks.
Overall, this transmission seems to be REALLY clean on the inside. So much so that I'm not convinced it hasn't already been rebuilt recently. More on that in a bit.
Last edited: