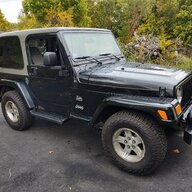 Joined

Jul 15, 2020
Messages

592
Location
Have fun with that transmission.


Meanwhile the battery died in my JKU, so I had to take the TJ out this afternoon despite being low on ATF. 3rd gear slipped pretty bad, but I'm going to tell my self it's because I was so low. I drove in 2nd for the 10 minute or so drive, 40mph or so. Temp got to about 175 and held steady. Parked it in the driveway of a friend who lives in a *very* nice neighborhood. You know where this is going.

I came back to a large red puddle under the jeep on his pristine driveway. I feel HORRIBLE. Luckily it's again just because I'm stupid. My pan has a drain plug that came with a nylon washer. For one, I didn't put that back on when I put the plug in. And for two, I didn't tighten the plug down very well. As soon as I got back home I put it in the garage, tightened the bolt, cleaned up the pan area, and put a clean paper towel underneath. That was about 3 hrs ago, no sign of a new drip. I guess that nylon washer wasn't necessary after all.

I should've bought ATF in bulk. I feel like I've gone through a ton of it on this project.
FINALLY got to put some fluid in the old girl and drive her around the block. I'm at least a quart if not 2 or 3 low, but the shift points are pretty much exactly where I expect them to be with the TV cable more or less right where it appears others are and based on the "just before tension" adjustment. It downshifts when I slow down & take turns, and also will easily kickdown just like it used to 11 pages ago.

I don't know that I'll be able to drive it enough today to validate the operating temperature, especially given that I'm a decent bit low on fluid. But I've been thinking through it and if the engine it making it spin faster than it thinks it should be spinning then it's likely not enough fluid is being sent to the places that need it and could make it run hot. Total conjecture, but low pressure is listed as a cause of high temps.

I'll probably only have one or two more progress posts in this thread, if I may be so bold as to count some chickens before they have begun the hatching process. But I want to say thanks to everyone who participated in the adventure, either to troubleshoot, or encourage my nonsense, or just to silently read along. I would love to know that I helped one person save $2k by rebuilding their transmission themselves, but it's plenty just to know that I saved myself $2k. And I learned a whole mess about automatic transmissions along the way.

Special thanks to

@U8MYDZT

who paved the way, and (seemingly) didn't get tired of 5 pages of DM's that y'all didn't even get to read on top of these 11 pages.
This is great man!
Please do update once you get the proper amount of fluid in that sucker and verify that she is all good.
As for helping, you've certainly done that, and your discoveries about the FSM are huge in my book, so nice work, and once again, thanks for the continuous updates and not ghosting the thread.
I have this thread bookmarked and will be referencing it this fall when I pull my 32rh apart.
Congratulations!