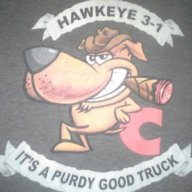 88M(30)
Supporting Member
Joined

Jan 12, 2019
Messages

305
Location
I currently have the Bushwacker pocket flares and figured when I replace my fenders this Spring would be a good time to try new/install new flares. I'm currently running 31"/10.5's with factory/no lift, have ZERO plans to start building for rock crawling as my TJ is my daily driver. New flares would be purely for cosmetic reasons. At the moment I'd prefer not to go back to stock but at the same time the pocket style is used in my area often enough the reason I originally got them is not as valid as it used to be. Should also mention that full flat fenders are out of question for the time being due to various reasons.

The past few weeks the flat or tube style flares have had my eye. The thing I don't like about the flat style is the angled look on the front of them. I found that the tube style from Warrior Products has a reduced angle on their front and added to them being metal they currently are on top of my tentative list. However, I can't find more than a few reviews for them online, a couple of posts mentioning them here on the forum (used Search), and this has me concerned about their quality.

Since nothing is set in stone yet I'm wondering, for those who have flat or tube style fender flares which do you run or recommend?