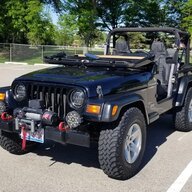 TJ Enthusiast
Supporting Member
I finally decided take care of the oxidation on the stock fog lights and the issue was from the inside of the glass. I took the light apart and clean the inside of the glass and what a huge difference it made. If your fogies need some attention follow the steps below.
Before:
Steps:
1. Need torx 15 and small flat screwdriver
2. Take the 3 screws out that
3. Remove the bulb and disconnect the negative terminal and pop the light off the front base.
4. Use the screwdriver to remove the sealant around the base and glass.
5. Insert the screwdriver in the opening of the base and gently pry it off. You might have to remove excess sealant holding the base and glass together.
6. Clean glass and internal housing.
7. Use sealant to seal the base and glass together.
8. Reassemble the lights back together.