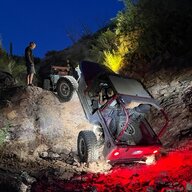 EVangelical
Supporting Member
Ride of the Month Winner
Joined

Jul 12, 2019
Messages

2,802
Location
Ready for the funds to buy a winch

View attachment 208753

Pulled the front swaybar. Drives good. Seat of the pants feel, I don't feel a difference with no swaybar. I have ordered front and rear Antirocks to address that area. What's left is the gorilla in the room,as they say. Axles and suspension.

Axles, man I want so mush stuff that I cant afford right now. Will take time to build up the funds to buy want I want for the axles and suspension. I want to do it right the first time. My Dana 30 and Dana 35 need upgrades. Dana 44 front and rear at least. Lockers ? Heck, I don't know what lockers to with. So many choices. I aint ever been down this road to know yet what style/type of locker I prefer.

Must do is add the Rubicon rockers I bought.

View attachment 208758
What size tires are you planning on running? Your Dana 30/35 can be made to run 35s no problem. I'm running the Dana 30/35 combo with 35" tires and it's been great. I just made sure to get chromoly axle shafts up front and a super 35 kit in the rear. If you can find a good deal on a Dana 44 rear then go for it but if not then no shame in a super 35 kit.
As far as lockers go I really like lunchbox lockers up front. I got my Spartan on marketplace for $75. It's ok but my dads lock-right is better behaved on the street. Basically invisible. I think it's the "no slip" one that doesn't click.
In the rear I would go selectable since you have a manual. I have a Detroit in the rear and from what I can tell it is harder on the synchros and can be annoying on the street. If I were to do it again I'd go Eaton E locker in the rear.