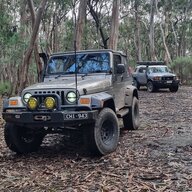 Joined

Jan 4, 2022
Messages

15
Location
Hey everyone,
Since owning my 2005 Wrangler 4.0 manual (8 months), I've had a leak from the RMS. It was a really slow drip with maybe one drop every 3-4 days. In mid July, I had the cats off as I was doing the exhaust manifold gasket and decided to the RMS straight after. Once I got the pan off, I was amazed to see what I believe was the original oil pan gasket. It was rock hard and really frail, peeling off with ease. The RMS appeared to be a mopar one and had compressed along the lip.
I did my best to do it by the book. I had a felpro oil pan gasket and RMS ready to go. Once I thoroughly cleaned the RMS bearing cap and all surfaces, I applied anaerobic sealant and a light dab of RTV to the ends of the RMS. I also set a slight offset too.
I continued on and re-assembled everything and made sure everything was torqued to spec. Once it was complete, I let it sit with no oil for a couple of days to make sure the gasket sealants had set. I then filled it with oil and started it up and no leaks. The next morning, no leaks. I then went on a 3 day camp which probably equated to 500miles worth of driving. Once I returned home after about 6 hours of highway driving, it was dripping hard out of the RMS area all over the driveway. It ended up leaving a little puddle about the size of a small dinner plate.
Tonight I got the oil pan off to inspect the oil pan gasket, which was a PITA because of the RTV in the leak prone areas. The gasket split when I took it off around the bearing cap area.
It's hard to tell if it was leaking past the oil pan or the RMS, but I have a few questions for the next RMS install tomorrow.
-How do you clean the top area where the top half of the RMS goes?
-Is it possible I didn't seat the oil pan gasket properly around the bearing cap? In which the RTV held it together initally but gave way on my way home?
-Does anyone have anything to add in regards to what I've done wrong or missed?
-Can anyone confirm if Mopar oil pan gasket's have the extra notch? Photo attached of my old oil pan gasket vs the new felpro.
-When I took the bearing cap off today, there was no residue from the anaerobic sealant. Is that normal? Or did I not put enough on? (Photo attached of when I first put it in).
Any help would be greatly appreciated, cheers.