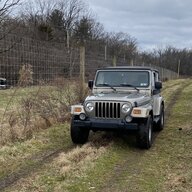 Joined

Apr 15, 2021
Messages

3
Location
Thought I'd share some pics of my rust repair. Since it was on the driver's side I'd look at it every time I got in and couldn't wait til the weather improved so I could spend some time outside on this.
Seems like a previous owner left the top down enough that rain was pooling up and seems to have started this rust spot in an otherwise strange area for water to collect. The rest of the Jeep is in good shape in and out for 233k miles.
Started by cutting out the rusty section that included the bad spot and another small area I could see starting to develop a few inches away.
With some of the rust cut away
New patch panel from 16ga sheet from Home Depot.
View from below before I welded in a patch piece
I was able to use the rounded corner from some steel angle to help shape the bottom of the panel to match and used some vise grips to bend it back to make the sharp crease. Used the flat area of my bench vise and a body work hammer to work out the vise grip marks and then ground the lower edge to make it match.
Alot of grinding with a flap disc, some thin layers of body filler and coats of primer, and then some body color matching spray paint. I did some wet sanding and then applied another coat of paint before I ran out of the small 5 oz can I bought from Quadratec. Just got some more paint, so will be applying that and trying to blend it in a bit before some clear coat and more wet sanding.
Also fixed a spot at the front fender