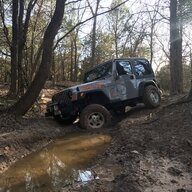 TJ Addict
Supporting Member
Joined

Feb 26, 2020
Messages

1,509
Location
So I am thinking about adding a roof rack to the Jeep. I keep needing more space, especially when hauling 4 people and I am toying with the idea of a simple RTT setup, or more space to mount lights and antennas (with a bit of a ground plane from the basket)
I am thinking the basket would need to be able to handle 2 adults and gear when static, so figure on 600ish pounds, very rough ballpark and probably 200 ish rolling. The
Garvin Expedition Rack
is the obvious solution, but it's kind of expensive for a college kid, and I don't like the "exoskeleton" look. I have seen some
Yakima Racks
done by members with success. I like the look but the general consciences seems to be "don't but more than 200lbs on the factory hard top."
So here's my idea:
Would it be possible to drill the top and install Yakima pads and bars like
@EJD
did, and then tie the inside of the hardtop pads to the jeeps roll bar. I am thinking of building some brackets to help distribute the load from the roof rack directly to the roll bar, thus allowing you to have several hundred pounds of roof rack load without the external frame or load on the hardtop. I am concerned about the hardtop flex though, I notice when going down the highway the hard top flexes or vibrates significantly, if you firmly affixed the hardtop to the roll bar, I'm concerned you may be at risk for cracking the top.
alright, thats the theory - someone shoot holes in it before I spend waaaay to much money buying steel.