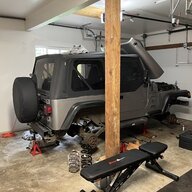 Joined

Feb 5, 2020
Messages

13
Location
Putting "rough" in quotes because I've seen the
FAQ
on this, and it doesn't quite address what I mean. Rough might be the wrong word.
A few weeks ago I did shocks and springs on my TJ. TLDR: It sits about 3" higher in the rear, with no reciprocal lift in the front (will explain below). No change to tires or tire pressure. However, it now feels like there is significant drag, and also like I am constantly driving on a brick road. This is what I mean by rough: not maxing out the shocks too early, but lots of drag and vibration, especially under torque. I haven't felt comfortable taking it above 35mph.
Now for the context. First, I don't know what I'm doing, which will become abundantly clear. Second, I don't know exactly which moving parts will be relevant to the above issue, so I'll explain everything. Forgive the essay.
Springs
I ordered OME springs, part numbers 2942 (rear) and 2933 (front). The front ones never arrived, hence the front springs haven't changed (yet), hence the above comment about lift in the rear but not the front. The rear springs I was replacing were stock, with a 1.25" spacer. The new OME's were advertised as TJ springs, but sat a full 3" taller than the stock ones, excluding spacer, so a net difference of +1.75". I didn't bother to reinstall the spacer since I was already getting that much of an increase. I did have to unbolt the rear track bar at the frame bracket to get this done (and it was a PITA to get back in).
Shocks
I ordered Fox 2.0 shocks, part numbers 985-24-085 (rear) and 985-24-084 (front); advertised as being for TJs with a 0 - 2" lift. (I've got 2" spacers in the front, and again, previously had 1.25" in the rear.) Front shocks fit fine, end of story. The rear shocks were a full 4" SHORTER than the ones I pulled off, at full extension. Plus, I hadn't accounted for the additional lift from the new springs. So I returned these and bought part number 985-24-086 for a 2.5" - 3.5" lift. These still sat a little shy of 1" shorter than the old shocks. I was aggravated enough to just install them and see, though, and they don't appear to be overextended at ride height, even with the lift from the new springs.
Net effect:
* Rear springs replaced, and rear spring spacers removed
* Front springs untouched
* All 4 shocks replaced, but not two matching pairs
* Feels like I'm driving on bricks; errant vibration, lots of drag
"Replace the front springs, dummy" ?
Thanks in advance.