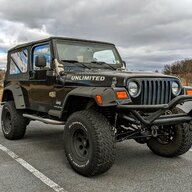 Joined

Jan 30, 2021
Messages

76
Location
Hey all, I've seen a few discussions around on the topic, but not my specific questions. I'm going to replace the NP231 in my 06 LJ with a NP241 from an 04 Rubicon. I'm also working on a tummy tuck and I already talked to someone at Tom Woods about a custom rear DS at my final length to go from the rear tcase flange to the Dana 44 yoke. But there seems to be a couple of options for the front DS.
1) Custom new DS with 1330 at the tcase and 1310 at the diff end. Pros: simple solution, all new parts, Cons: cost ~$400 and I've read that the 1330 binds more easily than 1310
2) Swap the front yoke on the tcase to 1310 and keep current DS (but I should do new u-joints). Pros: cost for the 1310 yoke and all ujoints/centering yoke = ~$200, Cons: extra work (though I don't mind a side project)
3) any other options I should consider?