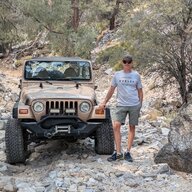 TJ Enthusiast
Supporting Member
Joined

Sep 19, 2022
Messages

309
Location
I found the kit pictured for sale private party lightly used for $800. I've read enough on this forum to know that this kit is certainly not on par with Currie or Savvy, but for $800 does it become a good buy?
My Jeep is a 99 Sport, 4.0, currently on 33s with as far as I can tell just a 2" body lift the prior owner put on. I'm looking to build this into a capable but streetable rig that I can drive to and from local socal trails in.
Am I opening a bigger can of worms with this lift most likely, drive line vibes, sye, dc driveshaft, mml, etc? Is $800 still not worth it?