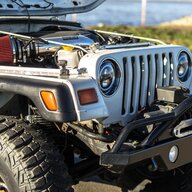 TJ Enthusiast
Supporting Member
Ride of the Month Winner
Joined

Apr 15, 2019
Messages

385
Location
Me, my buddy (Silver Tacoma on Slick Rock) and his buddy (another Tacoma) are planning to run the Rubicon.
I will keep this first post updated with the latest information.
Dates:
Sept 18-20
Plan:
Start the trail from Loon Lake side 9AM on Friday. Get to Buck Island lake and camp there. Get to Rubicon Springs on Saturday (no rush) and camp there. Sunday finish the trail and get back home.
GPS Coordinates:
Perhaps the best known and most popular 4x4 trail in the world. A rare combination of difficulty, beauty, length and pure rock-crawling pleasure. Great camping next to crystal-clear lakes with stunning views. Most people drive the trail in the direction described here, but it can be driven in...
Going:
@Indy
+ 2
@Thunderhead
@Gone-N-Done-It
@Alex01
Who's in?
@bobthetj03
@Daryl
@DrDmoney
@ImpactOrange
@Midnight LJR
@Plumber1
Anyone else?
Last edited: