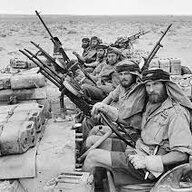 Joined

Feb 8, 2022
Messages

45
Location
My goal with this project is to build a reliable rig (Overlander/Expedition style) I can drive long distances to a trail or to explore new areas and back again comfortably, I want to try to keep the vehicle as light as possible. I have had some trailer queens (2 FJ 40's, 69 Bronco) and non trailer queens, two Toyota trucks (84 xCab, 84 4 Runner) that I drove regularly to Moab and Panamint Valley but want a capable rig that can tackle the trails and get me home safely without the need of a tow vehicle and trailer. This is not a DD and is only going to be used for exploring and wheeling. To quote Sundowner "the Jeep is the four-wheeled backpack of my life", well said my friend I could not agree more!
A little background on myself, I grew up in the Sierras and graduated college with a degree in forestry and recreation. I was a wildland firefighter for the US Forest Service for 12 years and spent another 7 years as a backcountry LE officer, my job was to manage the OHV trails on the Sierra National Forest. My patrol rig was a 1993 Jeep Wrangler, it started off stock and slowly I was able to add air lockers, atlas case, 33's, 4" lift, etc.. My job (in addition to trail maintenance and LE) was to drive the network of OHV trails on our forest which includes Swamp lake, Red lake, Coyote lake, mirror lake and the famous Dusy-Ershim trail to name a few. Every week for 7 years I drove one of the many trails on our two forest (Sierra and Kings River districts), it was a cool job and I miss the Clubs, trails and people I met but like any job there came a day I decided to do something different. I sold my trail rig and got involved in a new sport technical diving, that was 12 years ago and the last time I was wheeling...
Monterey is a small town, I usually commute on a bicycle and I have not needed a vehicle since I have lived here. Lat year I started looking for a trail rig and narrowed the search down to an 05-06 Unlimited or Rubicon Unlimited. After 3 months of searching Cali, I found one 4 hours north of me with only 10,000 miles so I hitched a ride to the dealer for an inspection and ended up driving home my new project.
Here she is bone stock, I have some big plans for her just need to start gathering parts. I am out of the country quite a bit for business so she is going to have to sit for a couple months or more before the undressing begins...
Last edited: