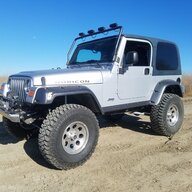 TJ Enthusiast
Supporting Member
Joined

Mar 9, 2021
Messages

368
Location
Howdy guys and gals.
If I've posted this in the wrong spot, I apologize.
Some of you may have read that I just completed a build on my jeep.
From completely stock to a pretty decent 35" tire build. Although, that's not quite true. I knew there was not going to be enough time left in my life to figure it out and do it once, correctly.
I also have a very low tolerance for "junk", which it more than likley would have become if I tried building it. To be clear, I did not do any of this work. After some begging and pleading,
@mrblaine
agreed to work w me, and although I had a good build on paper, Blaine helped dial it in so everything plays well and compliments each other.
I feel like I could compliment him every day and it might not be enough.
The jeep is amazing, and as my comfort level grows, confidence, skill level, are all contributing to jeep "nirvana".
That's kind of a long story (sorry) to share my experience w Robert Kobal.
I see many guys chatting about Savvy lead times, Savvy don't answer the phone, Savvy don't return my email, etc, etc, etc.
I too went thru all that.
I ended up seeing a little blurb somewhere on this site about someone who interacted w Robert, so I decided to give him a call.
I had a list of parts, and a certain budget on my second large parts purchase. Every part on this second list was Savvy stuff.
I had already priced it all out on the Savvy website, added in a discount code I found on this forum, added shipping, and got a grand total. My credit card failed to share any love, and the sale declined. That was, however, an added bonus.
Before I fixed the issue and completed the order, I ended up reading that blurb here, and decided to give Robert a call.
Man, I gotta tell ya. I won't share exact numbers, but I've made three orders thru Robert, and plan on at least one more, for more Savvy stuff.
Oh, yeah, back to numbers I won't share.
On that first order w RWK, he saved basically the ENTIRE SHIPPING COST. That first order was over 5K, and was 9 boxes that was "hella" expensive on the Savvy Site.
I've given Robert three orders for a damn high C note count, and he's saved me, no idea how, but a huge cost over buying directly from a couple of vendors.
As an added bonus, he and his business partner did the re-gear on my jeep, and that seams to be working flawlessly.
I've read some people talk disparagingly about him here, and talked him down, but I found him to be worth working with, and, that allowed some "free" money that I saved by going w him, that I used elsewhere in the build.
I just wanted to give a quick shout out to Robert, and RWK Haus Supply!
Give him a call, you might find your pleasantly surprised!