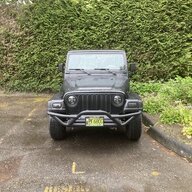 Joined

Jun 3, 2022
Messages

36
Location
Hello,

I want to flush and refill the brake fluid in my TJ as it's pretty black. I want to do this myself, however the only Jack I have is the emergency one that is inside the Jeep as well as emergency jacks from a minivan and a sedan.
Basically, I'm trying to figure out a way to safely mount the TJ in my driveway so that I can take the wheels off, flush the cylinders, thoroughly clean the brakes, etc.
I'd like to not have to buy any kind of Jack stand as I don't have anywhere to safely store it. With that said I also don't want to kill either the Jeep or myself by accidentally dropping it to the ground.

Any ideas?