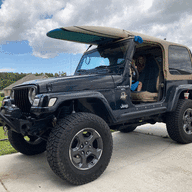 Joined

Feb 11, 2020
Messages

22
Location
Hey all! I am so grateful for this forum/network. It has helped me with many painful situations, not to mention saved me some $$!
I just recently bought some savvy tail lights and installed them over the weekend. The wiring/install was fairly simple. I am SO glad I took your advice and went with these. I get so many compliments on them!
FWIW, anyone considering these OR the flush mount circle tail lights - of the 2 options, I believe these to be the far superior. And I had a previous TJ with circle mount lights.
I did find out metal cloak has now joined the slim, aluminum tail light gang. They just came out with some tail lights VERY similar to Savvy's that are priced at $180~ (slightly cheaper). Anyone using these? Of course, I am happy with my purchase. Just wanted to share - especially for anyone running a spare delete, it's a GREAT choice! Cheers!