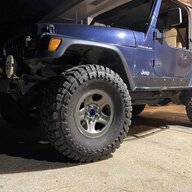 Joined

Sep 24, 2020
Messages

81
Location
So today, Drove it 15 miles to a car wash to spray off all the transmission fluid that had leaked from the blown trans line. No leaks and fun to drive. It tops out about 85 mph but maintains it on hills also. I got to keep my foot out of it because 55 mph is now nothing. Before it had to be on flat ground and no head wind LOL.

I drove it to work and back, very fun. I do have some kinks to work through. One being able to take off from a stand still with the transmission in Drive. When I first shift it to drive I can feel it take the load and it feels like a normal automatic transmission. but as soon as I give it gas it acts like the clutches are just slipping. But when I put in in low gear and take off as soon as I get to 10 mph I put the selector into drive and it shifts through the rest of the gears normally. Over drive works and it will kick down when I go to pass and if I am going slower then it will shift down into 2nd and when slowing down to stop or make a turn I can feel it shift into 1st gear but again I give it gas and it acts like it is slipping. I have another 46re that I will most likely rebuild on the bench while I keep driving this as it is.
Is it throwing any codes? My issue doesn't sound completely like yours, but when my 46RE had a wiring issue it didn't have first gear and would take off in second. It almost felt like it was slipping but in reality is was working harder to take off in a steeper gear.