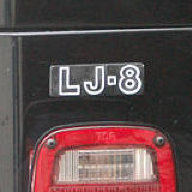 TJ Enthusiast
Supporting Member
Joined

Feb 13, 2020
Messages

804
Location
Tomorrow the SEMA Show opens. I got here today and went over to the convention center to help MORryde set up.
Background story: Last year At the show I gave MORryde some suggestions on ways they could improve their booth display. You may know that MORryde is one of the largest RV OEM suppliers in the business, probably #2. They fabricate all kinds of parts for the RV industry, from steps up to and including motor coach frames. They also, as you do know, have a nice line of Jeep accessories they manufacture, designed by yours truly. They're also the #2 or #3 general fabrication company in the country (the numbers aren't public so it's not clear what their exact rank is). They manufacture, for example, suspension parts for a major Jeep suspension company. I don't think I'm allowed to say who it is, but you would know them.
One of the things I told them last year was that they should promote their fab capabilities at the show. I'll bet almost every person walking the aisles of the show has a product idea that they can't get off the ground because they don't have the fab capabilities or a fab partner. To make the idea more clear, I did a very rough sketch of a display for them one evening after the show last year. They liked the idea, both of promoting their fab capabilities and the display concept, but I didn't hear anything more about it until two weeks ago. In a call with them on another subject, they told me the display was just about ready to be shipped to the show. They actually built two of them and planned to use both at the show, one of which they wanted to focus on camping/overlanding. They asked if I thought Overland Outfitters would like to have some of the display space to show off some of their products. I don't generally speak for OO, but I told MORryde that OO would definitely take them up on the offer.
So here's the results, this is their implementation of the display idea I sketched for them last year, it's a box that gets shipped to the show and there are display panels that come out of the box and hold products and a TV screen...
Quadratec provided many of the items on the display; they have a standup poster next to it showcasing their fab capabilities, which was one of my suggestions from last year.
The other display they set up as a camper/overland kitchen, and they gave much of the board space to Overland Outfitters.
The back side of the display above. The TV that goes on top didn't survive the trip so they're going to Walmart tonight to get a new TV in time for the show.
Since MORryde is showcasing their fab capabilities hoping to sign up new OEM accounts, I suggested to OO that they do the same and this sign is among the OO products on display...
MORryde is showing many of their Jeep products on the JLU in their booth including the Trail Kitchen and they're also showing a preproduction version of the suction-mount table I designed a while back; I turned over the design to them at Overland West earlier this year and this is what they've done with it so far. They've done a nice job with it, and in this photo it's attached to the side windows of the JL hardtop using the suction mounts.
Another background story: The first time I attended the SEMA Show was in 2010. At the time I was in the process of turning over the Safari Cab design to Gr8Tops and had designed and built the prototype Exogate in my home workshop. That first Exogate was installed on my LJ for testing and it worked out so well that Gr8Tops wanted to market it, but they were (and are) mostly a fiberglass company so they had no way to manufacture it. So I was one of those guys walking the aisles of the show with an idea but no fab capabilities. I came across the MORryde booth and they were displaying their RV slide products. I was also interested in slides and drawers for the cargo space of Jeeps so I stopped in to talk to them. In conversation it came up that they did fab work and before you know it they were manufacturing the Exogate for Gr8Tops.
Show opens tomorrow, stay tuned to this thread - I'll post photos of things I find interesting. Not sure how much TJ stuff will be at the show but I'll post what I find and probably other non-TJ things I find interesting.
Last edited: