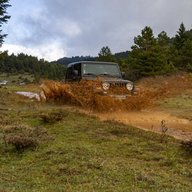 TJ Addict
Supporting Member
Joined

Dec 23, 2019
Messages

1,200
Location
Hey everyone,
I have a 2.5"-3" Suspension lift, running 31x10.5 tires. I installed Rancho RS5000x, but they are short so I am looking to sell them in order to buy either the longer ones or some other option that I have seen suggested in this forum by some members.
Please let me know your opinions about Skyjacker Black Max and KYB Monotube shocks, and how they compare with Rancho RS5000x.
Or please suggest me any other alternative shock for this ride height.
* My use: Daily driver, but also off road on weekends. I don't do extreme rock crawling stuff, but I value both on road and off road performance/ride quality.
** I know they are not the best possible shocks, but I am looking shocks in this price range, or a little bit more expensive. I don't have the budget for custom tuned shocks etc.
Spoiler Alert: Some Findings From This Thread ...
Special Thanks to
@SSTJ
for creating the summary.
Experiment 1
:
@Mike_H
From Ranchos to KYBs to Black Maxes.
Summed up his results by saying this:

Rancho 5000x: decent ride, but the front and rear ends seemed to be doing different things. Made for a very disconcerting driving experience. I'm starting to wonder if I got a bad set of rear shocks. I didn't feel any real differences between them, but there was something definitely wrong, that I haven't felt with any of my other experiments.
KYB monomax:. Better than the ranchos, in that they controlled the Jeep and the rear started reacting predicably again. Very stiff though. High pressure charge, enough so that when I was checking my bumps without the springs, the Jeep would lift up, then settle back down on every stroke of the jack. Bouncy ride.
Black max: compliant, good travel for the lift height (4'ish inches). They didn't exhibit any of the handling weirdness that the ranchos did, either. They will give a bit of a jolt in big bumps. I don't really have much else to say about them. They feel like they will be decent off-road, but I won't know until I try it. An added benefit... Because they aren't nitrogen charged, they are VERY easy to install.
Experiment 2
:
@Irun
From ??? shocks to Black Max. What shocks did @Irun have at first?
Summed up by saying: "Caveat here. I don't have my final driveshafts yet, but bolted up a spare 1330 rear shaft and took it for a quick spin. I couldn't go far, or fast, so I'll have to defer to @MountaineerTom for his feedback. My initial impression is favorable for my light setup. The twin tube shocks are definitely soft riding compared to monotubes I've had, like Bilstein 5100s. The best way I can describe the Black Max shocks is soft and compliant. There is no harsh feedback or stiffness. If you like a firm shock, these are not the shocks for you. For a daily driver, I'm expecting them to be exactly what I wanted. Time will tell though!"
Experiment 3
:
@MountaineerTom
From Rancho 5000x to Nitrocharger Sports to Black Maxes.
Swapped to Black Max and found that:

"They are certainly softer. They feel a lot like the stock ride to me. I know everyone didn't get their Jeep with a stock suspension, but for me, that's comparable to how it feels."
"When I put my lift on, I installed the OME Nitrocharger Sport Shocks. They were very rough over areas in the road like joints where roads meet bridges, man hole covers, your normal deteriorating pot-holed road or patched up pot holes. Around here it's very sandy and some of the fire service roads get a lot rippled/wash board type areas on them and with the OME's it was rough as hell and not enjoyable unless you were going very slow. I replaced the OME's with Rancho RS5000x's and it was an improvement In all those areas."
"These Black Max's seem to me to be a ride improvement over the Ranchos. At first I thought they might be kind of mushy just pushing on the bumper corners before I drove it around. Even pulling out of my shop, thought the yard and out on the street I was still thinking it might be mushy. After driving around just a few minutes, I liked the feel a lot. I do have a newer style Antirock up front on the softest setting and the factory rear sway bar. A factory front bar or the ORO bar would probably be different, but I have no experience with those and the Black Max's combo. Im happy. "

Followed up later to say:

"I had the Skyjacker Black Max's out in Uwharrie yesterday. Lots of rocky, bumpy trails. They felt very good to me. Even my friend (not a Jeep owner) who rode with me thought they rode really good. I had a couple places in mind that I thought the rear bumper might drag when coming off a ledge, but it didn't. If I had come off them faster, probably, "
Experiment 4:
@Billy06
Started with KYBs in front and Rancho 5000x in the rear. Changed the rear Rancho 5000x to Black Max.
Results TBD ...
Plus, Lessons from
@Rubicon88
:
Within the same price range, Bilstein 5100s KYB Monomax, FOX, and Rancho 7000 are comparably stiff.
The Rancho 5000x is not as stiff as the above.
The Blackmax is the smoothest of the bunch on a TJ.
There are some striking similarities between Ranchos and Monroes.
There are also some similarities between Skyjacker and Gabriel.
Last edited: