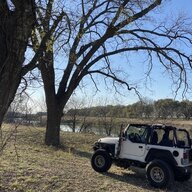 Joined

Nov 1, 2021
Messages

44
Location
Hey awesome Jeep peeps! As always wanna thank everyone for all the awesome tips! This forum is a godsend.
Underneath my TJ today (1998 4.0 manual trans) I noticed a crack in my muffler. Did some research and am pretty set on getting the bank's monster exhaust! the muffler and tailpipe.
My question is, based on pictures should I just change the entire exhaust? (Downpipe, catalytic converter, clamps, 02 sensors etc.)
Jeep runs great and is not throwing codes. Flange studs were loose and caused a small exhaust leak a few months back but I've since tightened them up an it's been fine. Jeep also has an aftermarket exhaust manifold installed by a previous owner.
I really don't wanna mess with the 02 sensors. (If it ain't broken don't fix it type thing) the rust is all surface/classic exhaust rust. (Jeep has been in Texas it's ENTIRE life, sorry to all my northern rust sufferers) and I don't wanna have to drop the skid plate since my jack stands and floor jacks are far away from me at the moment. Jeep came with a body lift or spacers of some sort on skid plate so I'm thinking I have enough room to work.
So will I be fine just changing the muffler and tailpipe to the banks monster exhaust? Or should i just do everything if I'm gonna go banks route? Suggestions for downpipe and catalytic converters? Was just gonna do rock auto for those. Thanks a bunch y'all!