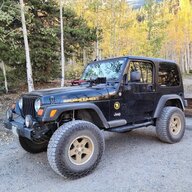 New Member
Supporting Member
Joined

Sep 15, 2020
Messages

4
Location
Hey folks,

Long time lurker, first time poster and member.

I have been digging for a minute about springs and hard tops on this forum, but haven't found the info I need. I have some progressive RCs after a lift on my 06 Golden Eagle edition TJ. It was born a soft top, soft top 4" springs are what I got when I lifted it in April. I decided the soft top needed to be replaced, along with the bows. Since I pull the full top completely off every spring and run a safari top, I figured why replace that for half the cost of a used hard top.

Here we are. Soft top progressive springs with a hard top. Should I swap my rear springs?

Do I notice a difference? Yes. Mainly on road around town. This is my DD, so it is annoying. But, I can live with it for 5 or 6 months at a time since I work from home now and don't drive too much. My real question is, should I replace springs to save something else like shocks or anything else?