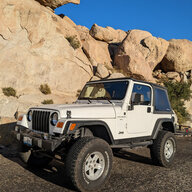 Joined

Jun 12, 2019
Messages

8
Location
Hello all, this is my first post on the forums. I searched the threads but did not find something specific so here I go:

It's starting to feel like summer and I wanted to fix the A/C, though that it needed some freon recharge but when I took it to the shop they measured and told me the reason it was not cold was because of the dryer / accumulator. I took it back after the diagnostic and searched for a replacement and got a spectra one for around $20 bucks and while I was at it I also bought a new condenser, same brand.

One thing that we noticed when they were checking the A/C is that the radiator is actually pretty bad, it looks like its going to start leaking soon, it has parts of the top with some sort of glue patches and it just doesn't look good, they advised to change it. The older owner of the Jeep could't care less about treating it good; the hood latch was forced because this Jeep also has a transmission cooler so the space was tight and it seems that they damaged the top of the radiator and also some fins of the transmission cooler.

So, I'm basically replacing the AC parts (minus the compressor) and I will also be replacing the radiator, I will get new hoses, thermostat, housing and gasket, all mopar, honestly, for the engine and transmission cooling I'd rather spend the premium, for the AC that's not as critical though, plus, where I usually wheel, can get as hot as 125 degrees (Sonoran desert) so cooling is rather critical, so here goes a few questions:

Should I also replace the water pump if I'm going to replace the radiator, hoses, thermostat, etc? I have that motto of "if it works don't try to fix it" and the pump seems fine but I'm not sure...

Do transmission coolers really help? This one I've read a lot of mixed opinions and the reason that I ask is because, like I said, the other owner seems to have effed up part of the fins with the hood latch by using it as a lock, so I'm not sure if I should keep it, remove it (if it really doesn't add up) or replace it

I want to have the work done for both the AC and the cooling but before I get the parts I just want to be sure what really is important to change at this point. All parts seem to be the stock ones, and on a 120k miles 2006 Tj with off-roading I have a hunch that I should go ahead and replace them all for peace of mind. Thoughts?