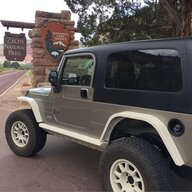 TJ Enthusiast
Supporting Member
Joined

May 22, 2020
Messages

764
Location
I sold my Next Level 5th Wheel and I'm starting to look for a trailer for the Jeep ( RZR / Quads).
My 5th Wheel was 102" wide. The interior wall to wall was just over 95".
When I loaded the Jeep I was unable to open the doors due to the upper cabinets. But if they weren't there I think I could have squeezed out.

As the Jeep sits with the spare tire and winch it is 15'6" long x 6'6" wide. It fits under a 7' (84" frame without airing down the tires).
I still need to get her on a scale for an accurate weight.

So, looking at the different size box trailers, I kinda feel like even a 7' Wide trailer will force me to crawl out the rear every time I load and unload.
It also seems like 18' is probably the minimum length, even 20' doesn't leave much additional room.

What do you guys have and why did you pick that size/style?