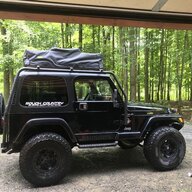 Joined

Oct 21, 2020
Messages

1
Location
Hey everyone,

Wondering if anyone has any experience adding a snorkel to a TJ that already has a roof rack. I have the Barricade roof rack on now with a RTT, but I am not finding anything on how to integrate a Snorkel with it.

I saw a picture of a guy with a Redrock Snorkel kit with the same roof rack, but it looked like he bumped the snorkel out a bit from the body to make it work some how.

Any help would be appreciated, besides the anti-snorkel comments. (already hydrolocked it once and got lucky, definitely gonna get a snorkel before I try anything nuts again lol)

Thanks!!