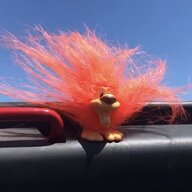 TJ Addict
Supporting Member
Joined

Mar 17, 2019
Messages

1,444
Location
@DavidBT
mentioned in his winch thread about not caring for Jeep/4x4 clubs and I agree. The ones around here are more focused on ducks and Jeep nights at a bar. They do trail rides but there's usually too many ppl for my tastes as I prefer small groups.
I tend to go solo because of the few jeepers I know we have scheduling problems. Lol
I'm aware of the risks of solo wheeling and avoid taking risks. I have a winch and I always have survival gear with me.
I guess the point of this thread is having a discussion about the pros and cons. (?)
I'm sure I posted this in the wrong place and I assume admin will move it