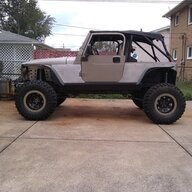 simple guy
Lifetime Supporting Member
Joined

Nov 17, 2019
Messages

5,002
Location
wanted a Jeep since i was 17, saw a CJ with a v8 on 36's and it just stuck in my head.
32yrs later i found 1.

a khacki 04 6cyl auto, 79k, a hardtop and a 2" spring lift, on 31's, frame had been treated in and out and it was very clean for this area (Ohio). don't think it's seen salted roads, and it still hasn't.

so i got advice from someone i thought new about wranglers, his 1st advice was to get Hi-lift jack, a proper lift and 35" tires and get wheelin.

so after purchasing my jack i proceeded to try and decide on a lift kit. RE was suggested to me, but after some digging i came up with a bolt in short arm Currie or MC sys, MC won by a few $ and better marketing.

i didn't know dick so started to google stuff and read whatever i could, it was then i stumbled onto wrangler forum. i read for wks and started into this roller coaster adventure.

i gonna touch on what all i've been through but not detail everything to save time n space. but i'd gladly elaborate if it's requested.

so over the next few days i'll get this thread up to speed with my trials, defeats and stupid mistakes with a couple decent mods in between, so stay tuned it gets real stupid b4 it starts to get better.