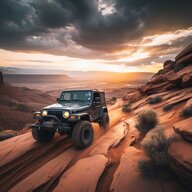 Going my own way
Supporting Member
Joined

Feb 28, 2017
Messages

6,124
Location
Filed under: unintended consequences, otherwise know as mods beget more mods.
I relocated my upper spring perches. I'm making sure my fuel and evap lines still line up, as well as replacing brake lines. Well, I found the fuel supply line, the big stainless one, doesn't quite fit with the relocated perch. I've bent it around and got it connected, but I'm not happy with it. The soft line has a minor kink in it, and the new bends I put in the hard line aren't great. Thinking on buying some hard tubing, stainless flex tubing and -an fittings to make it look presentable.
However, I've not done much with -an fittings before. Not sure if I need special tools, what fittings I'll need, how to I connect to the factory QD's, etc.
Anyone care to give me some pointers, or present an alternative fix?