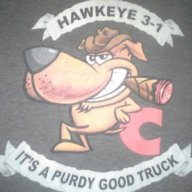 88M(30)
Supporting Member
Joined

Jan 12, 2019
Messages

305
Location
Ever have a moment at the place you work that makes you go "WTFO"?
I'm lucky(?) enough to work at a place where I have those moments at least weekly if not sometimes daily. I simply
cannot
fathom what, if anything, goes on inside the heads of our management in regards to the process of assigning priorities and/or making decisions. Just a few things I can think of from the past that make me shake my head:
Despite being told by other companies we have contracts with, it took 16 years and almost a lawsuit to install weather resistant additions to some of our main equipment. Before this we were expected to use "volunteers" to go onto our non-OSHA approved roof and remedy weather issues the best they could.
Over the past 10 years there has been an increase in violence against people in our field of business. Yet we continue to send people out alone, defenseless, usually in the dark, to remote areas, and usually some of the smallest sized people you've ever seen.
Equipment in the area that is most critical to our product is often denied replacement and/or replacement can only be used/off of eBay in order to make sure we have funds to keep things looking nice... but if the needed equipment isn't replaced no one is going to be able to see our product to begin with.
People are often denied going to professionally offered refresher/improvement/misc courses so that we can have consultants review our products monthly.
What boggles my mind the most is what happened last week, wasn't corrected, and happened tonight.
We have a fleet of over a dozen vehicles and apparently my personally owned jumper cables are the only ones anyone has access to.
Seriously, as much of our fleet I had to jump last week and being located in Iowa where cold is standard issue during the winters I can actually feel the gears inside my brain (OK, hyperbole) lock up trying to figure out why no one else has ever said "gee, maybe we should make sure as part of the fleets BII (basic issue items) every vehicle has its own set of jumper cables?"
Granted I'm seen as "just a pee-on" (actual quote from last year around this time), but who ignores basic stuff like that? I just don't get it.
So I'm curious, any of you reading this feel like sharing questionable things you see at your place of employment? If so, keep in mind in this day and age negative comments about employers if mentioned by name can be seen as fire-able offenses so please don't use your employers' names.