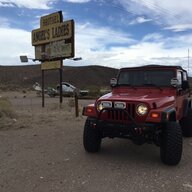 Joined

Apr 29, 2021
Messages

54
Location
1997 Jeep Wrangler Sport automatic with 82,000 miles.

So, volunteered to stand flags at national cemetary on memorial day and while waiting, my jeep overheated. Easy to do here in Phoenix at 115deg.
identified a cracked radiator along top of plastic one inch long. Threw job JB Weld along carck to get me home, refilled with water and nursed it back home but on the highway about 10 miles from home, I over heated and had a hard time pulling over with all the traffic and ended up blowing head gasket. Confirmed when I got it home by looking at wet plugs.

Pulled the head and had a machine shop clean it, magnafluxed, new valve stems installed, three angle valve job, machined the head in case it was warped, etc.

Since I had it all apart I decided it was a good time to throw in a long tube header, Banks Monster Cat back and 62mm TB and Air Filter, new Spark Plugs, 4 hole injectors, new silicone radiator hoses along with silicone heater hoses.

Also decided to upgrade the radiator with a three core aluminum one and a temp switch controlled electric fan..... needless to say, wasn't happy with electric Fan
as it just didn't push enough air and it over heated again. Luckily, this time I was able to pull over to the side of the road at around 225 deg. I also added a digital
Temp Gauge plumbed into the top heater hose since I just didn't trust the stock gauge. Let it cool down and after getting back home.....decided this three core
aluminum radiator with weak electric fan was BS. After all, never had temp issues with the stock radiator and Stock fan.

Put a stock radiator and stock fan back in..... can feel hot air blowing down at my feet when standing in front of the jeep at idle. With the electric fan I was only able to hear it running and had to put my hand near the fan to know that it was running. Definitely have much more air flow through OEM Single Core radiator and stock fan then the electric fan with aluminum 3 core radiator but.....still running high Temp at around 224 or so with AC on.

Keep in mind this thing has rebuilt head, Water Pump is a year old, thermostat a year old, Heater core flushed last year, new single core OEM Radiator, New Silicone hoses, spark plug, 4 hole injectors, etc.....

I actually never disconnected the battery so am doing so now in case the computer is having issues relearning with all new TB and INjectors, Exhause. Maybe running lean? that and I might go back to stock rubber radiator hose on the bottom in case this siicone one is getting to hot and colapsing? obviously I can monitor it while driving but I do know some cars came with a spring inside the lower rubber hose to keep it from collapsing....

Any other ideas I should look for ?