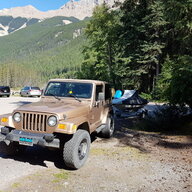 TJ Enthusiast
Supporting Member
Joined

Mar 12, 2019
Messages

107
Location
And so it begins... unheated garage, sub-zero Temps outside. Why not start a TJ build... at the start of a Canadian winter?
Seeing as the ZJ in the snowbank, that is my back driveway, has too many problems to fix - it will donate its 5.2L and any other parts I can fit on to the TJ (I wish there existed a short list like the one I had for ZJ parts onto an XJ).
The $200 tub is in amazing shape with almost no rust, windshield and frame were not included. The frame is from a TJ that had an electrical fire and was stripped for parts when it was just 2 years old- $200. Picked up the Dana 30/35 axles & RC 4" for uber-cheap ($350) as the frame came bare except for bent/ warped fuel & brake lines attached.
Neither have more than 25K miles on them.
Attached the tub for transport purposes but it will come off soon so it'll be easier to work on the suspension components and rust-proofing the frame. Should be fun.